Sri Lanka beach destinations
We have included the most popular beach destinations in Sri Lanka.
This is a gorgeous world renowned bay which is perfect for pro surfing.
The Arugam Bay surf beach is located 314 km from Colombo and listed as one of the top ten surf points in the world.
This beach is ideal place for all kinds of water sports and underwater photography.
Ambalangoda, on the southwestern coast in Galle district about 85 Km from Colombo,has a beautiful white sandy beach.This town is popular for devil dancing and mask making.
This coastal area with plenty of hotels are fascinating place for experiencing a luxury beach holiday.
Bentota is located 64km south of Colombo in the South-western coastal belt of Sri Lanka.Calm seas during the season from November to April make Bentota Beach ideal for snorkeling,diving, sailing, wind surfing, water-skiing and fishing.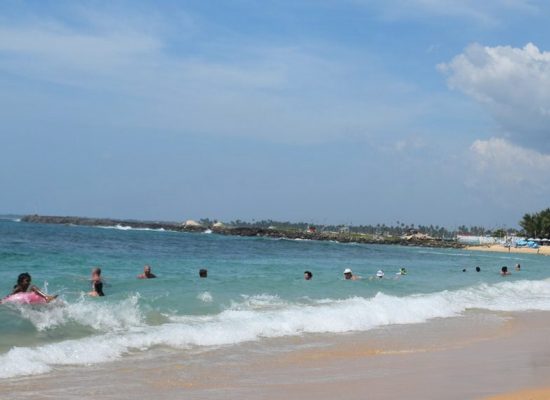 Hikkaduwa is situated 98 km from Colombo towards the south of Sri Lanka and reputed as the second best surfing spot in Sri Lanka.
Hikkaduwa Coral Sanctuary is located a few hundred metres offshore. The sanctuary has approximately seventy varieties of multi-coloured corals.
Kalkudah Beach and Passikudah Bay
Kalkuda beach is located 282km east of Colombo in the eastern coast of Sri Lanka and ideal place for water sport activity like snorkeling, wind surfing or jet skiing and basking Kalkudah beach along the east coast is one among the many stunning beaches of Sri Lanka.
Passikudah Bay is another wide beach which is 4 km long and located just south of Kalkudah.
The Kalkudah beach provides the perfect setting for sun bathing, windsurfing, and skiing. The best time to visit the East coast is ideally from May to September.
Nilaweli beach is Located 275km from Colombo in Trincomalee district, beach has ample water sports facilities including fishing and sea angling. Whale Watching in the sanctuary is a specialty.
Pigeon Island, a ten-minute boat ride from the Nilaveli beach, is an ideal place to skin/scuba dive, or to just have a sun bath. A few metres from the coast is a small rocky island that is good for snorkelling.
Tangalle Beach is situated 195 km from Colombo in the Hambantota District on the southern tip of Sri Lanka,. You can relax on one of the top
three beach zones around Tangalle, which are known to be private and secluded.
Take part in the water sports. Go turtle watching. Enjoy the delicious seafood. It is a centre of tourism and a popular holiday destination on the south coast.
Trincomalee Beach Located in east of the country 120 km from Colombo.Trincomalee has some of the most picturesque and scenic beaches found in Sri Lanka.
Unawatuna is located 108 km from Colombo in Galle district of Sri Lanka. Unawatuna is a major tourist attraction in Sri Lanka and famous for its beautiful beach and corals.
There is a reef protecting the beach, which makes it safe for bathing Unawatuna beach is a paradise for all those who want to listen to the silence of the sea and dive deep into the blue waters of the ocean.
Unawatuna beach provides excellent opportunities for water sports such as sailing, wind surfing,diving, water skiing and scuba diving.
Many hotels located on the beach offer various facilities for these water sports.
Weligama is located at a distance of 143 km south of Colombo along the southern coastal belt of Sri Lanka. Weligama is one of the most reliable place to learn to surf in the Indian Ocean with several famous surf points.
Polhena beach is located 160km from Colombo and an ideal place for scuba diving, surfing and sunbathing etc. It is a highly famed destination due to its natural swimming pool created by coral reef.
Negombo is a small beach town 37 km north of Colombo, Negombo is a mere 10 km away from the Bandaranaike International Airport.
Negombo has a small port, and its economy is mainly based on tourism and its centuries-old fishing industry.The wide sandy beaches and the safe sea are the major tourist attractions.
Mout Lavinia beach is located Ten km south of Colombo Fort, along Galle road , Mount Lavinia is an immediate Colombo city suburb that has often been a hot spot for tourism and nightlife. A better place for relaxing and night parties.
Mirissa is a small town on the south coast of Sri Lanka, located 240 km from colombo.It is also a fishing port and one of the island's main whale and dolphin watching spot.
Koggala is a coastal town located about 140 km south of Colombo
one of the best and the longest beaches in Sri Lanka Stilt-Fishermen
are a familiar sight here. Koggala a place rich in history and beauty with its
calm blue mangrove fringed lagoons.
Galle Beach is located 116km south of Colombo and this beach has become one of most important places in Sri Lanka being a world heritage site .
Its natural harbour was a famous port built first in 1588 by the Portuguese, then extensively fortified by the Dutch during the 17th century from 1649 onwards.
Galle is also known for its beautiful beaches, lace making, and gem polishing industries.
Kalpitiya peninsula, Kalpitiya Islands and Kalpitiya Beaches are a much visited tourist destination located 170km from Colombo.
Kalpitiya is a peninsula set in between the deep lagoon of Puttalam to the east and the magnificent Indian Ocean to the west this place gives the opportunity
for whale and dolphin watching.
Happy Tour To Sri Lanka is a travel guide website which
provides most up to date travel information to tourists.We offer everything such as
travel guide to top destinations,hotel and travel tips you need to
help plan and book your Sri Lanka vacation.If you have any question,please do not hesitate to
contact us directly.
Address: No-1010#,  Dompe,  Western Province, Sri Lanka
E-mail: support@happytourtosrilanka.com