Complete Guide To Travel Around Sri Lanka
Travel guide to Anuradhapura City
Ancient city of Anuradhapura
Ancient city of Anuradhapura,being one of Eight World Heritage sites of Sri Lanka has become a must see tourist destination situated in North Central Province in Sri Lanka.
Distance from Colombo to Anuradhapura is about 205 km.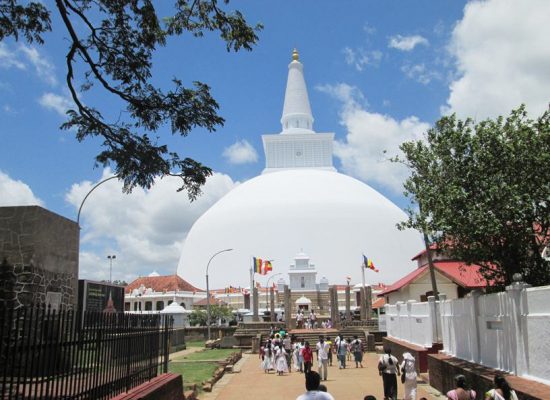 If your start from Colombo there are several methods of transportation you can use to reach Anuradhapura city by bus, train,taxi, and car.
Travelling in a bus is the cheapest way of getting to Anuradhapura
which costs Rs. 220 – Rs. 300 and takes 5h 15m.
But always try to get an air conditioned bus from Colombo Bastian Mawatha Bus Terminal as normal buses are not much comfortable to travel long distance.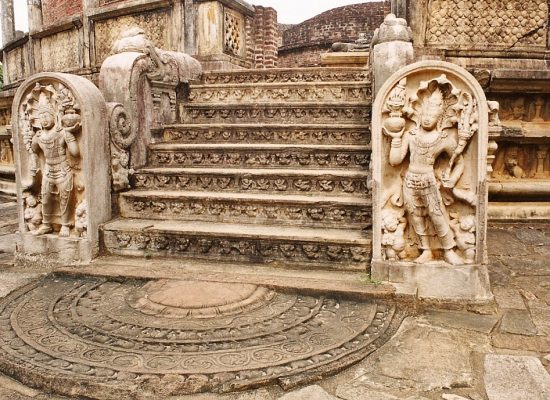 The fastest and easiest way to get from Colombo to Anuradhapura
is to take a train from Colombo Fort Railyway Station which takes around 3h 25m and cost Rs. 100 – Rs. 650
3rd Class Rs. 100 – Rs. 170
2nd Class Rs. 180 – Rs. 300
1st Class Rs. 470 – Rs. 650 .

If you take a taxi from Colombo to Anuradhapura it will cost around Rs.20000 and take 3h and 38m.
Anuradhapura city is a major part of the cultural triangle of Sri Lanka
and the city has several top class tourist attractions which draw millions of local and foreign visitors annually.
Visitors to the Cultural Triangle should buy a ticket at the entrance of each sites.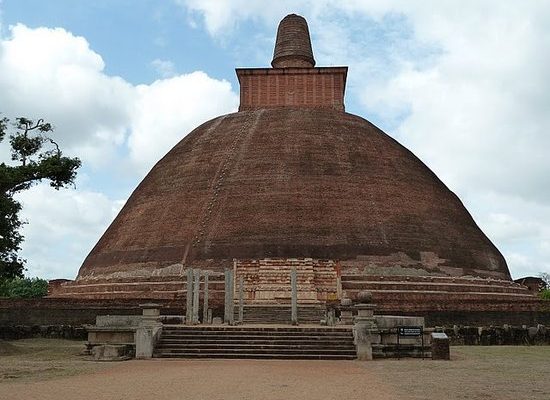 The main attractions are contained in an archaeological park which requires quite a bit of walking.
Therefore we recommand hiring a tuk-tuk to take you to the defferent sites within the park.
Here is what to see in Anuradhapura City
Sri Maha Bodhia
Ruwanweli Stupa
Lovamahapaya
Mirisavetiya
Lankaramaya
Abhayagiri Stupa
Jetavanarama Stupa
Thuparamaya
Aukana Buddha Statue
Samadhi Buddha Statue
Isurumuniya
Twin Ponds
Elephant Pond
Sri Maha Bodhia or Sacred Bo Tree is one of the most sacred and most visited places in Sri Lanka.
The sacred Bo tree is the oldest documented tree in the world, and was grown from a sapling of the very tree under which the lord Buddha attained enlightenment.
This stupa can be found adjacent to the Jaya Sri Maha Bodhiya in the Mahamevuna Uyana.
It is a few munites walk from Sri Maha Bhodia.

This Stupa is one of the most venerated Stupas in Sri Lanka, built by King Dutugemunu in the 2nd century BCE.
The Ruwanweliseya is ranked among the tallest ancient monuments in the world.
This Stupa is 300 feet in hight and standing with a circumference of 290 m.Some relics of the Buddha are enshrined in it.
You are supposed to remove your shoes to enter.
You can find this building situated between Ruwanweliseya and Sri Mahabodiya in the ancient city of Anuradhapura.
This was built by the King Dutugemmunu in the 2nd century BC.
According to Mahavamsa, the great chronicle of the Sinhalese, Lovamahapaya was a massive nine storied building with a height of 150 ft and each side with a 150 feet length.
At present this is a structure with hundreds and hundreds of stone pillars.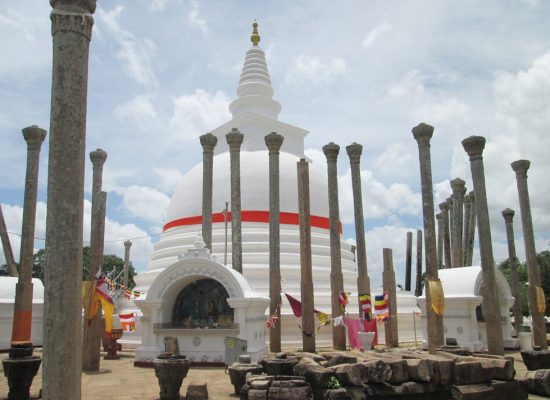 Mirisawetiya is situated just 1 km to the east of Sri Maha Bodhi.This Dagaba has been built by King Dutugamunu (161-137 BC).
Mirisawetiya is one of the most ancient structures in Sri Lanka and is a must visit attraction in Anuradhapura.This stupa is about 59 meters (192 ft.) in height and 42 meters (141 ft.) in diameter.
Lankarama Stupa is an another place of Atamasthana (The Eight Places) at archaeological city in Anuradhpura.
The stupa was built on the 1st century BC by King Walagamba.This is smaller than the other stupas in this historical city.
The rows of stone pillars encircling the stupa shows how there has been a house around the stupa to protect it.
Abhayagiri Dagaba is one of the greatest structures in the ancient world and a real sight for the eye.
This stupa was built on the 1st century BC by King Walagamba,in order to pay his gratitude towards the Buddhist monks.
This Vihara area contains a museum as well and Highly recommend to visit this place if you travel to Anuradhapura.
This is Originally over 100m high.A walk around the base of the stupa is a must to understand its size. we recommand wearing socks as the ground is so hot during the midday.
This is the largest stupa in the world and the second biggest structure next to Biggest Pyramid in Giza.Initially it was a 400 feet in hight and impressive huge domed structure built from over 90 million bricks.
This Stupa is situated pretty close to the other main and large Stupa called Ruwanweliseya in the area of Mahamewuna Park.This was built by king dewanampiyatissa in 2nd century bc.
Although this stupa is smaller than other ones in the area ,this is considered as the first Buddhist stupa with relics of the Lord Buddha.
Please remember to dress appropriately, cover your shoulders and knees while visiting this temple.
The Statue was made out of a huge granite rock in the fifth century during the reign of king Dhathusena.
You should not miss to visit Avukana Buddha statue as It is a great construction by ancient craftsmen in sri Lanka. Foreigners have to pay Rs.1000 earch for entrance fee.
This is an impressive piece of stonework located in the Mahamevnawa Park in between the Twin Ponds and Thuparamaya Temple.
This is just eight feet tall and It depicts Lord Buddha in deep meditation position.
The most important thing about this statue is that you see defferent expressions from defferent angles.
This is another beautiful Buddhist temple. It is well worth a look at while in the ancient city of Anuradhapura.
This temple is famous for its stone carvings on the rock face of the water tank and the carving of Isurumuniya Lovers .
The site includes a shrine room,a rock to climb,a museum , lotus pond and lot of stoneworks. you can probably see the whole thing in about half an hour.
Book a hotel in Sri Lanka
Happy Tour To Sri Lanka is a travel guide website which
provides most up to date travel information to tourists.We offer everything such as
travel guide to top destinations,hotel and travel tips you need to
help plan and book your Sri Lanka vacation.If you have any question,please do not hesitate to
contact us directly.
Address: No-1010#,  Dompe,  Western Province, Sri Lanka
E-mail: support@happytourtosrilanka.com