Complete Guide To Travel Around Sri Lanka
Sigiriya is one of the Eight World Heritage Sites of Sri Lanka and among
the most visited tourist destinations in the country.This is a wonderful rock fortress in the shapeof a lion about 200 meters higher than the surrounding jungles.
View of this Sigiriya rock astonishes visitors with its'uniqueness and the ancient technology used to turn a gigantic solid rock and woodland into a wonderful fortress complex.Sigiriya is considered the Eighth Wonder of the world.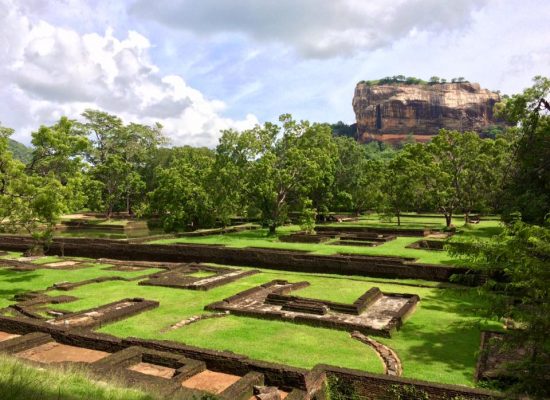 As Sigiriya is located in the Cultural Triangle you can reach the site
from other main tourist destinations such as Dambulla,Polonnaruwa,Anuradhapura,and kandy.
If you choose to travel by bus,We do not recommend to travel directly to Sigiriya from Colombo as the journey takes long time and it may
exhaust you.Plan one day or two to explore Kandy City and Dambulla from where you can easily get to Sigiriya.
If you start from Colombo,visit Kandy first which is the most visited travel destination in Sri Lanka.From Kandy travel to Dambulla which is also a World Heritage Site of Sri Lanka.

Distance from Dambulla to Sigiriya is 20 km, so it is easy for you to get to Sigiriya in s short time.
There is a regular bus service between Dambulla and Sigiriya. The bus ride takes about an hour to reach Sigiriya.There are plenty of tuk tuk services in Dambulla.
If you hope to travel by bus, do not forget to take the earliest bus of the day so that you could get to Sigiriya without delay.
We recommend you hire a tuk tuk because going by bus can be a littel bit time-consuming.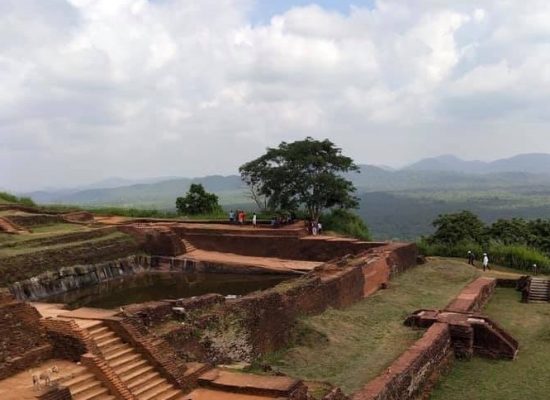 The ancient site is open every day from 7:00AM to 5:30PM.Get a ticket
from the ticket counter.It is 30 dollars (Lanka Rupee Exchange Rate) for a foreigner.But the trip is worth the price.If you are from a SAARC country (India/etc), you pay 15 dollars for each.
It is better to start your journey very early in the morning to avoid the worst of the heat and long queues .Wear sensible shoes, Take lots of water with you and a hat with sting to avoid it fly off with the strong wind at the top of the rock.
You can buy them at the entrance.There are lot of stalls selling foods and other items.
you will have a lovely walk through the gardens and moats from the entrance to the bottom of the rock.First part of the journey is very cool
under the shade of the wood which makes you feel like in a large forest.Be careful of the monkeys trying to steal anything.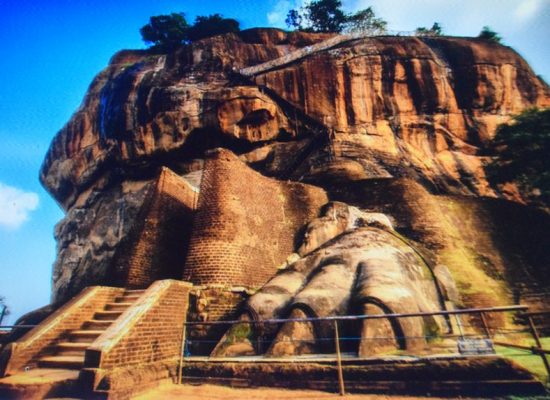 We strongly recommend that you also visit the Museum which is very good.There are various galleries showcasing the prehistoric period, the royal city and golden age of Sigiriya and archaeological history of the site.
You have to climb 1200 steps to the top. The climb will take you between 2-3 hours ,but it depends on your fitness and the crowds at the time. There are lots of difficult steps and even a spiral staircase which are strongly fixed to the wall of the rock.
Remember! Maintain silence while climbing , hornets are known to attack when they are disturbed.
You will find world famous Sigiri Frescoes painted on the western rock face cavity about 100 meters high from the rock base.These Frescoes are locally called 'Sigiri Apsaras'-'Sigiri Damsels'.

Some believe that these were the ladies of King Kasyapa who built this fortress to protect himself from invasions. The women are only painted from the waist up ,holding flowers in their hands.

Although there had been around five hundred paintings during the King Kassapa'time there now remains 21 paintings.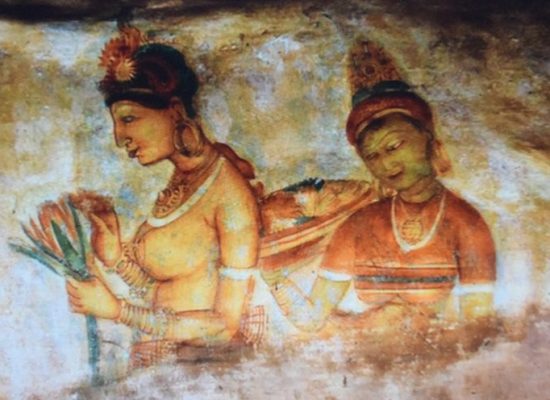 the Mirror Wall, in local language 'Katapath Pawra' is another interesting construction on which you find graffiti from the 7th to 10th centuries AD.These were written by the people who came to see Sigiriya during old days.
After the Mirror Wall you come to the Lion Paw Terrace or Platform.Here you can rest for a while before you climb the metal stairs which is more steep which leads to the top.
There had been an enormous Lion figure at the entrance to the palace,there now remains Only two huge Lion's paws.
Be aware the walk to the top is not suitable for persons with mobility issues and people with fear of heights.If you are afraid of metal stairs on ledges, don't climb all the way to the top.
once you reach the top, you would find it hard to imagine how one can
build such a magnificent palace on a rock like that.360 degree panoramic view of the surrounding area and its villages from the top is amazing.
You can find many accommodation facilities around Sigiriya rock fortress. There are hotels ranging from start class properties to affordable accommodation such as guest houses and rest houses with easy access to Sigiriya .
Remember to book accommodation well in advance during the peak holiday season from November to April.
Happy Tour To Sri Lanka is a travel guide website which
provides most up to date travel information to tourists.We offer everything such as
travel guide to top destinations,hotel and travel tips you need to
help plan and book your Sri Lanka vacation.If you have any question,please do not hesitate to
contact us directly.
Address: No-1010#,  Dompe,  Western Province, Sri Lanka
E-mail: support@happytourtosrilanka.com