Complete Guide To Travel Around Sri Lanka
Dambulla cave temple is one of the world heritage site and a well-preserved, cave-temple complex situated at an elevation of 1118 feet from the sea level.
This can be located in matale district in the Central Province of Sri Lanka.
Dambulla cave temple contains five major caves in which there are thousands of murals painted on the rock ceiling and the walls with impressive designs and colours.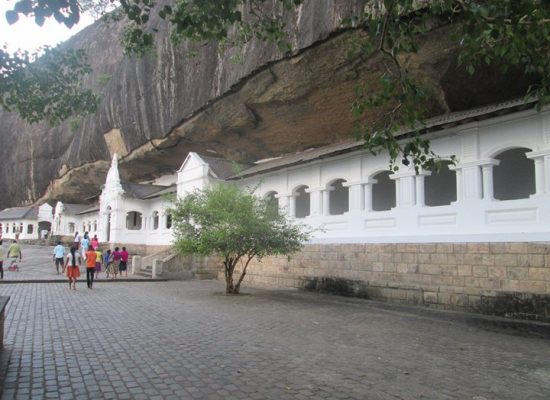 This is a must-see tourist attraction in Sri Lanka.Most visitors travel to Dambulla after spending one or two days in Kandy City as Dambulla is situated 72 km north of Kandy and it takes nearly 2 hours to reach Dambulla if you travel in a taxi.
The bus to Dambulla leaves from Kandy Central bus station, adjacent to Kandy Central train station.
If you start from Colombo there several methods of transportation you can use to travel to Dambulla.
One of the best ways to reach Dambulla is to take a train from Colombo Fort Station to Habarana and from there you have to travel by cab to Dambulla.
You can take a long distance bus from Colombo bus station and the journey takes about five hours to reach Dambulla.
Get a semi luxury going to Polonnaruwa or Anuradhapra (remember to ask if the bus is going via Dambulla,as some buses take different route) and get down from Dhambulla.
Hire a tuk tuk to get to the Dambulla Cave Temple.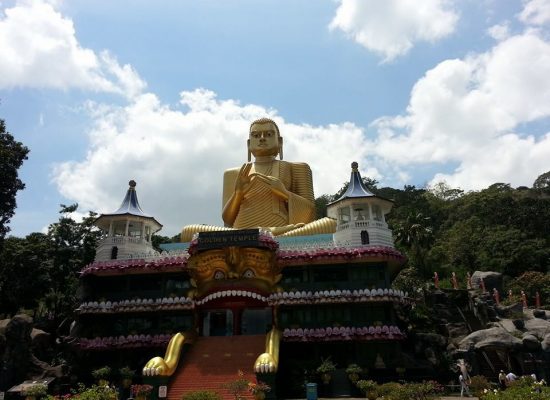 You have to climb approximately 400 stone steps to the summit.It is quite a long, steep climb from the Golden Buddha statue up to the caves.
Remember to book a hotel close to the temple so that you can leave your backpacks in the hotel.
There are some guys who offer to keep your backpacks for a small charge .
But we recommend not to follow this practice as it is not always safe to leave your luggage with unknown people.
 BUY YOUR TICKET AT THE BOTTOM! Be sure to buy your admission ticket for Dambulla Cave Temples at the bottom of the steps.
There are no ticket counters on the top of the hill.
If you miss this you have to come down again to buy tickets for the entrance.it is Rs.1500 for a person.
If you are more interested in learning historical details about this cave temple you can hire a guide from there.
But remember to negotiate a reasonable price for all five caves as some guides charge for each cave separately.
 Another important thing is that no shoes are allowed in the temple area.There is a place to keep them outside the entrance for a small price like 50 Rupees.
So have some socks with you as it is very hot underfoot at noon.Also note, men and women need to be covered over shoulder and below the knee – take a sarong/scarf or you can hire one for 100 rupees on the top.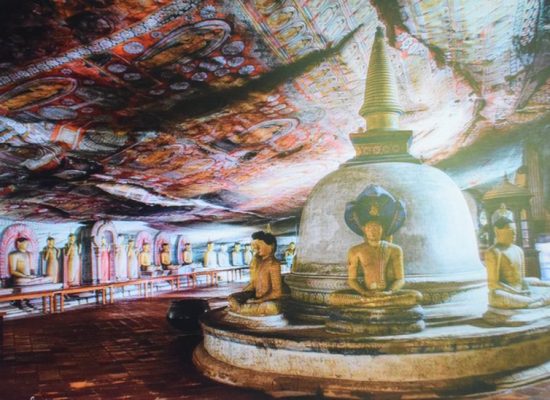 Make sure you take water and some snacks with you.There are some places where you can sit and take a break while enjoying the sight of monkeys.
Be aware monkeys are bold enough to jump and snatch foods from your hands.
In a case of unexpected rain ,Be prepared for it as there are no place
for shelter until the top.
It is good to have some tissues to clean yourself in such situation.
When you reach the summit you will find the five caves, formed by a very large overhang in the face of the rock.
Explore each chamber of the rock which contain statues and paintings.
The paintings on the walls and the ceilings tell many stories.
Another fascinating feature is a large bowl placed on the right side of the cave which is collecting water drops falling from the cave ceiling.
It is said that Even in a severe drought , this water source doesn't get dried up.
Enjoy wonderful panoramic views outside, have some great photos.
You can see the Rock of Sigiriya in the distance which is also a major tourist attraction that you must visit.
While you are in Dambulla ,if you are interested in bird watching ,you can book a guided bird watching tour of the city.
Book a hotel in Sri Lanka
Happy Tour To Sri Lanka is a travel guide website which
provides most up to date travel information to tourists.We offer everything such as
travel guide to top destinations,hotel and travel tips you need to
help plan and book your Sri Lanka vacation.If you have any question,please do not hesitate to
contact us directly.
Address: No-1010#,  Dompe,  Western Province, Sri Lanka
E-mail: support@happytourtosrilanka.com