Complete Guide To Travel Around Sri Lanka
Travel guide to Polonnaruwa
Polonnaruwa ancient city is situated about 216 km northeast of Colombo in North Central Province.
This is one of the Eight World Heritage sites of Sri Lanka and it is recommended as a must see by others who have travelled to Sri Lanka.
Polonnaruwa is the second ancient capital of Sri Lanka.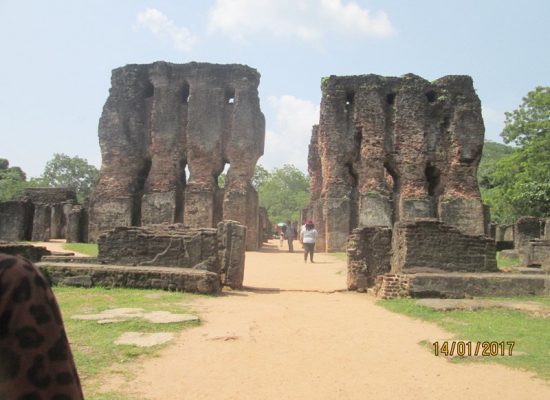 If you plan to travel to Polonnaruwa by bus you can take route no 48
Colombo-Polonnaruwa bus from colombo Central bus stand or Bastian mawatha bus stand.
This journey would take around 6-7 hrs to reach Polonnaruwa.Bus fare from Colombo to Polonnaruwa would be RS.230.
If you take a taxi from Colombo to Polonnaruwa it would cost
around Rs. 12000.
You can take a train to Polonnaruwa from Colombo Railyway Station.Tickets cost Rs. 410 – Rs. 650.Read our train travel guide for more information.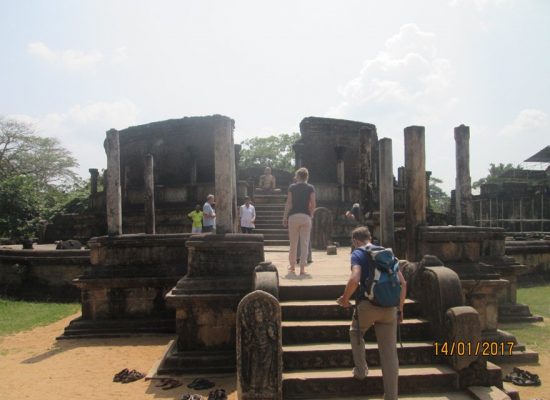 You'll find hundreds of ancient structures,tombs and temples,
statues,shrines and stupas in this archaeological park.
As the area is massive and it gets hot under your feet at noon it is better if you hire cycles which are available in the area.
We recommand you get a guide from there to explore the site or use a guide book.
Here is what to see in Polonnaruwa City
 Royal Palace
.Nissanka Latha Mandapaya
Gal Viharaya
Watadageya
Lankathikaka
Rankoth Vihara
Thuparama Gedige
Pothgul Viharaya
Kirivehera
Sathmahal Prasada
Nelum Pokuna
 This is one of the main attraction to see in the Polonnaruwa
Heritage City. According to the chronicle of Mahavamsa this magnificent palace was constructed as seven story building, with 1000 bedrooms by the King Parakramabahu.
It is said that construction work had taken about seven years and seven months to complete the building.
You can imagine how big the palace was in old days looking at huge walls with thickness over one meter and the foundation walls of the building.
This palace used by King Nissanka Malla in 12th Centuy is situated close to the Topawewa.The audience hall contains stone pillars with a hight
of 8 feet and carved in the shape of a lotus stem.
Each pillar has inscription indicating the seats allocated for earch minister.There is a small stone Stupa on the center of building. It is said that the roof of the building was done with wood.
This is a rock monastery built during the reign of King Parakrabahu (1153-1186 A.C).This has three large images of Buddha hewn out of solid rock.These are seating Buddha statue, one Standing statue and incumbent Buddha statue.
Vatadage is a circular structure built during the ancient times to enshrine the relic of Buddha.
This structure is said to have built to protect the small stupa on the center of Vatadage in which the relic was deposited.
Vatadage contains beautiful stones carvings throughout the structure.
Lankathilaka Image House is an breathtaking structure built by
king Parakramabahu 1.It has a massive standing Buddha statue made with bricks more than 14 meter height.
According to the chronicles this was constructed by the king Nishanka Malla(1187 AD to 1196 AD).This is the largest and most important stupa
in the ancient city of Polonnaruwa.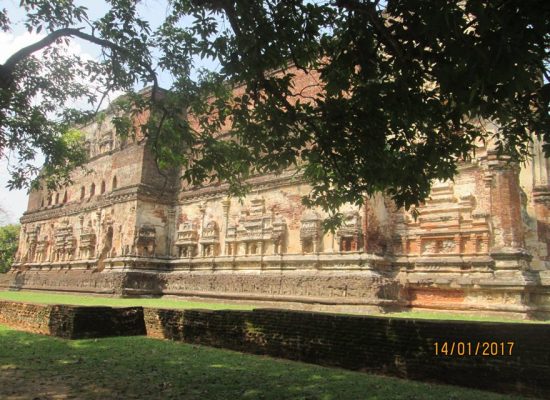 This is the oldest library monastery found in Sri Lanaka.This viharaya was constructed by king Parakamabahu the Great(1153-1185 AD).
The name Pothgul itself means 'Bookstore'. There is a circular
chamber in inside the building where books were kept.
This is also believed to have been built by the King Parakamabahu.
Kirivehera is Situated next to world famous Lankathilakaya.
This is the second highest stupa in Polonnaruwa ancient city with a hight of at 24.5m.
Sathmahal Prasada is a seven storied pyramid shaped stupa located in the ancient city of Polonnaruwa.
This is a 32 feet structure built in the 12th century to resemble the type of stupa found in countries like Cambodia.
Happy Tour To Sri Lanka is a travel guide website which
provides most up to date travel information to tourists.We offer everything such as
travel guide to top destinations,hotel and travel tips you need to
help plan and book your Sri Lanka vacation.If you have any question,please do not hesitate to
contact us directly.
Address: No-1010#,  Dompe,  Western Province, Sri Lanka
E-mail: support@happytourtosrilanka.com