Complete Guide To Travel Around Sri Lanka
Trekking And Hiking In Sri Lanka
Guide for trekking and hiking in Sri Lanka
If you are crazy about trekking then you will get ample opportunities for trekking in Sri Lanka.Sri Lanka's diversity of terrain provide the opportunity for amazing treks and hikes, especially in the Central Highlands.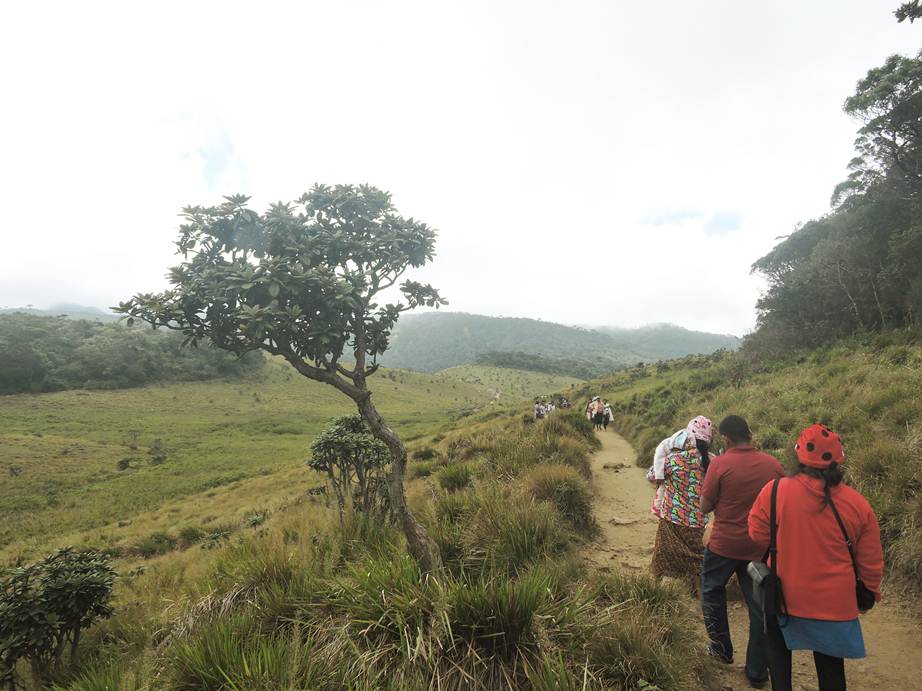 The rivers and numerous waterfalls in Sri Lanka are another key attraction that allows hikers and trekkers to enjoy a wonderful experience.
Hiking and Trekking in Knuckles Mountain Range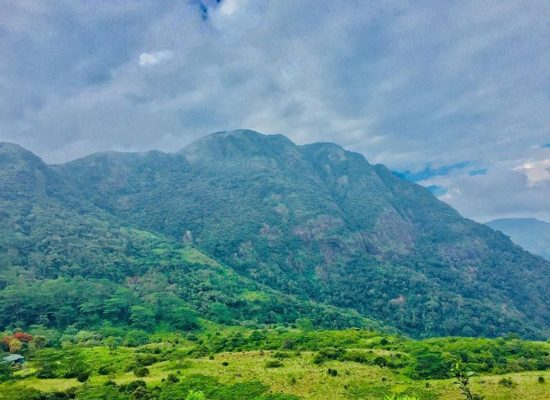 Knuckles range also called Dumbara mountain range is located off Kandy, in the northern end of Central Highlands of Sri Lanka.
With its numerous mountain trails, the Knuckles Mountain Range offers trekkers a great opportunity for a hike across dense forests, gushing rivers, cascading waterfalls,paddy fields and tea plantations.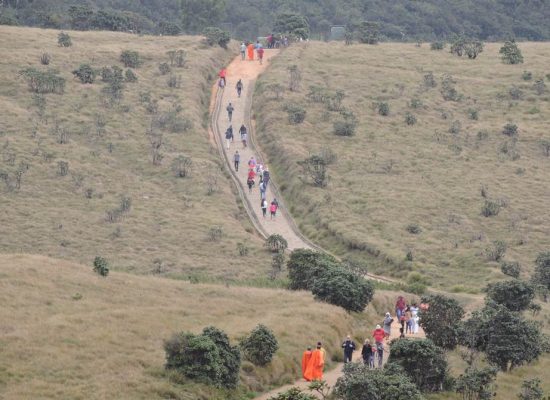 Experienced trekkers will know that the Knuckles Conservation area itself is a famous destination offering jungle treks, mountain climbing and opportunities for overnight camping.
For trekking,a professional guide is essential and tickets must be obtained in advance from the Forestry Department.
Hiking and Trekking in Belihul Oya
Belihuloya is a picturesque little town located in Sabaragamuwa province, 616 metres above sea level.
The spectacular sceneries of the area afford a wide variety and trekking and hiking trails over the hills, through the jungles and paddy fields.
The exhilarating trek from Belihuloya leads to the Horton Plains
National Park, a natural reserve speckled with unique flora and faunas, and waterfalls.
Hiking and Trekking in Horton Plains National Park
This UNESCO designated Natural World Heritage site, being a biodiversity hotspot is one of the best places to observe nearly 750 species of plants, 24 species of mammals, 87 species of birds, 09 species of reptiles and 08 species of amphibians.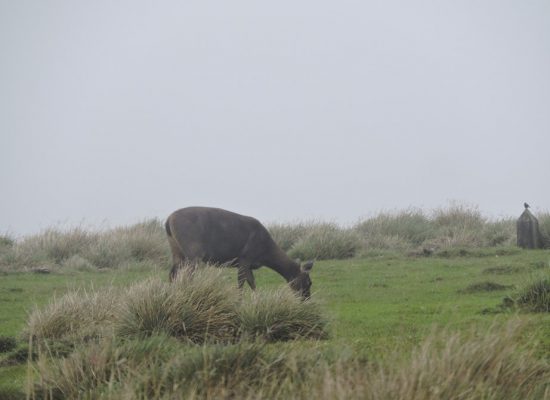 Horton Plains is spread over the southern ridge of the central
highlands in between Nuwara Eliya and Haputale.
you will be able to enjoy the breath-taking view of the surrounding
savanna and forest patches of Horton Plains from the summit.
Hiking and Trekking in Sinharaja Rainforest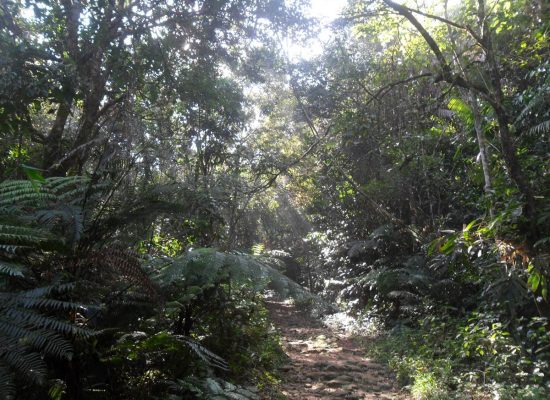 Being an World Heitage site, Sinharaja Rain Forest is a rich treasure of nature's excellence with significant diversity.
It's probably one of the oldest living ecosystems, a place that certainly deserve a visit.
The greatest attraction of this trek is the unique collection of the endemic species in birds, trees,mammals, amphibians, insects and even reptiles.
The best time to visit is December to April; August
Hiking and Trekking in Meemure Sri Lanka
Meemure is a village of Sri Lanka near the border between Kandy District and Matale District in the Knuckles Mountain Range.Meemure is a beautiful village that soothes the eyes of nature lovers.
It is rich with natural beauty as well as Traditional Sri Lankan styles. It is also an ideal place for enjoying trekking that surely uplifts the spirit of adventure lovers.
Hiking Adams Peak Sri Lanka
One of the natural landmarks is the summit of Adam's Peak which is 7,360ft in height located in central Sri Lanka.
The climb consists of rising stairs, and you have to climb 5,000 (wow!) of them in order to reach the peak.
A trek toward this colossal Adam's peak can be very exhausting.The Adams peak trail except in certain place is an intense and continuous climb.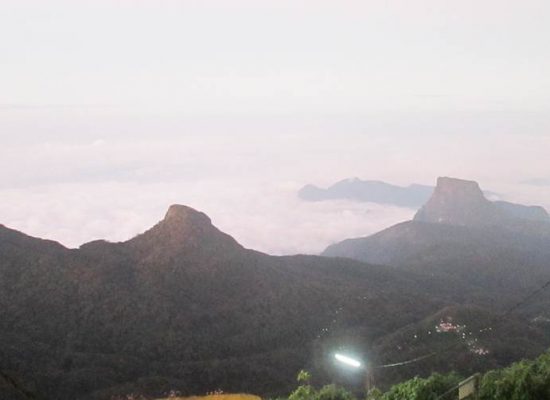 The top of the mountain has a huge a footprint. The Buddhist residents say it's the footprint of Buddha's left foot.
The Hindus claimed that the footprint belonged to The Lord Shiva.
The Muslims and the Christians believed that it was Adam's first step after being kicked out of the Garden of Eden by God.
There are several routes that can be used by pilgrims when climbing the peak, including the Ratnapura route, the Hatton route and the Kuruwita route.
Haputale is located in the Badulla District, and is 4695 ft high above the sea level.It is approximately 193 km away from Colombo.
It is one of the places with a very rich biodiversity and allows a very beautiful view of the Southern Plains.
The town is no doubt one of the spectacular places in Sri Lanka. Haputale makes hiking and trekking a great exhilarating exercise.
Trekking in Kitulgala Forest Reserve
Kitulgala is 95 km from Colombo.The area receives two monsoons per year and is considered one of the wettest destinations in the Island.
There is an exhilarating trekking opportunity through the virgin forests,
lush green tea estates & water falls.
The trekking trail essentially moves through lush greenery and extensive collection of rare low land birdlife, wildlife, amphibians and colorful array of fishes Camping, trekking, bird watching and exploring the nearby waterfalls are popular in Kitulgala.
Happy Tour To Sri Lanka is a travel guide website which
provides most up to date travel information to tourists.We offer everything such as
travel guide to top destinations,hotel and travel tips you need to
help plan and book your Sri Lanka vacation.If you have any question,please do not hesitate to
contact us directly.
Address: No-1010#,  Dompe,  Western Province, Sri Lanka
E-mail: support@happytourtosrilanka.com