Complete Guide To Travel Around Sri Lanka
Guide to popular water falls in Sri Lanka
Sri Lanka has over one hundred waterfalls which are breathtaking and rich in beauty.Waterfalls are most commonly found in the hill country in Central Province, Sabaragamuwa province,Uwa province and in Kalutara district.
Billow is a list of very popular waterfalls in sri lanka.
This is the tallest waterfall in the is land .The height is 241m.Babarakanda falls is situated in Handumullain Badulla district.
It is only four miles away from the Colombo Bandarawela road in a forest glade.
Aberdeen Falls is a picturesque 98 m high waterfall on the Kehelgamu Oya near Ginigathena, in the Nuwara Eliya District of Sri Lanka.
Baker's Falls is a famous waterfall in Sri Lanka. It is situated in Horton Plains National Park on a tributary of the Belihul Oya. The height is 20m.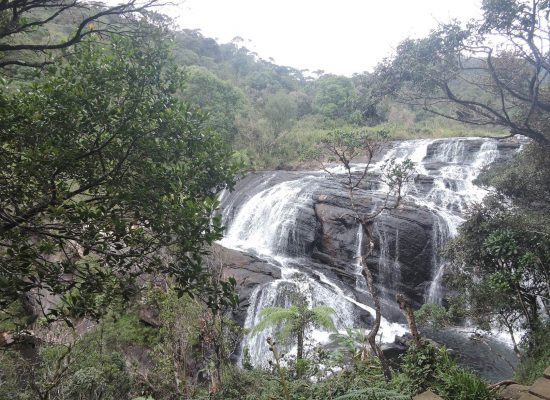 Devathura falls is a waterfall in Nuwara Eliya District of Sri Lanka
and approximately 10 meter in height.
This is one of the famous waterfalls in the Island,situated in the Devon estate in Nuwara Eliya district.The falls is named after a pioneer English coffee planter called Devon.
The Dunhinda Falls is one of Sri Lanka's most beautiful waterfalls which is 64 metres in height. It's also known as Bridal fall as the shape of the waterfall reflect a bridal veil.
This beautiful waterfall of Badu Oya is situated close to Badulla ,off Badulla Mahiyangana road.You will have to walk about 2 km to the waterfall
Elgin Falls is located in the Elgin tea estate which is 18 km from Nuwara Eliya. The waterfall is 25 m in height.
Many visitors miss this waterfall as there is no clear path to the waterfall.
Galboda Falls is located in Nuwara Eliya District. It is more beautiful in the rainy season when its full width is filled by water.
Since the area is close to Watawala, where the rainfall is high,the waterfall is ever young.
The only way to Galboda is by train. There are two express trains
from Colombo heading to Badulla and both trains stop at Galboda Station.
Huluganga Falls is situated at at Huluganga Town in Kandy District of Sri Lanka.It starts from the Knuckles Mountain Range .
This waterall is about 75 meters in height.
The height is 60m.This is a man made waterfall close to Kandy.Water plunges over a steep rock from an artificial lake.
Laxapana Falls is 126 m in height and situated in Maskeliya area in Nuwara Eliya District.Lakshapana was the first hydroelectric project in sri lanka .
This waterfall is the 8th highest waterfall in Sri Lanka and 625th highest waterfall in the world.
Total height is 203m in three parts and has three parts,the first part is above the road about 100m ,second part is close to the road about 3m and the third part 100m is bellow the road .
This waterfall is situated in Pussellawa area, on the A5 highway at Ramboda Pass.
It is formed by Panna Oya which is a tributary of Kothmale Oya.
This is the 10th highest waterfall in Sri Lanka, situated in Kandy District and is 111 feet in height.
Sera Ella is a waterfall located in Pothatawela village in the Matale District of Sri Lanka.
It is formed by the waters of Kitul Canal which runs down Kaudagammana peak and the Hunumadala River,which flows from the mountains of Gonamada its height is 10m
St. Clair's Falls is one of the widest waterfalls in Sri Lanka and is commonly known as the "Little Niagara of Sri Lanka".
There are two waterfalls which make this beauty,kuda ella about 60m ,and maha ella 80m,50m wide.
The falls are situated 3 kilometres west of the town of Talawakele on the Hatton Talawakele Highway in Nuwara Eliya District.
Bopath Ella (Bopath Falls)
Bopath Ella is a waterfall situated in Kuruvita in the Ratnapura District of Sri Lanka.The height is 40m and it casvades in the shape of a leaf of a Bo tree.
This is a famous place for local tourists.There are many restaurants near by the waterfall.
Kalthota Doowili Ella Falls
Doowili ella falls is located in Thanjantenna village in Ratnapura District.
The height of the waterfalls is about 40 m
This waterfall is located not far from Hawa Eliya town in Nuwara Eliya and a good place for hiking.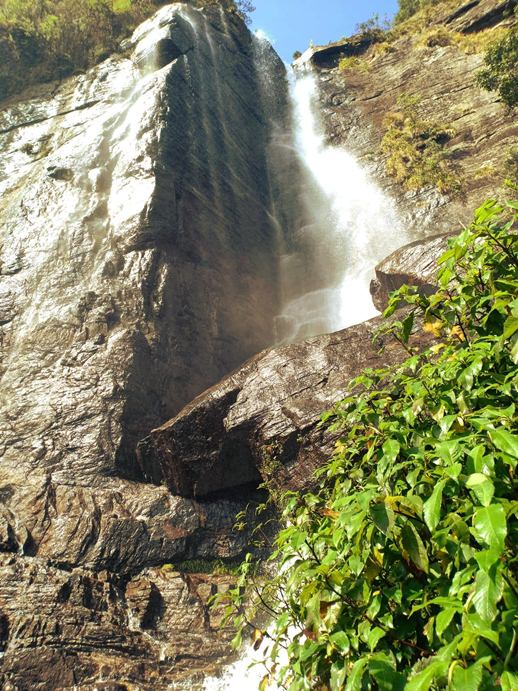 This waterfall is situated in Rathnapura district and its height is 116m.
The height of the Ravana falls is 40m situated in Nuwara Eliya disctict off welimada Perawella road near the Uduwahara temple.
The Ravana Falls is a popular sightseeing attraction in Sri Lanka. It currently ranks as one of the widest falls in the country.
The height is 189m and this is the highest waterfall in sri Lanka.Another name for this fall is Maturata falls.
This is located in Nuvara Eliya district ,to reach the fall you have to take the road from Nuwara Eliya to Kandapola.You have to travel about 30km to reach it.
The height of this waterfall is 141m. This fall consists of three sections and is served by the Ella Oya.
The Mapanana Falls is located in the Siripada Mountain 22km from Ratnapura.You can reach here from Ratnapura via Gillmale.
Olu Ella is the 6th tallest waterfall in the country and the tallest in the Kegalle District.The height is 100m.
This fall is 15 -18m wide with an impressive sight.This is a famous bathing place.
Happy Tour To Sri Lanka is a travel guide website which
provides most up to date travel information to tourists.We offer everything such as
travel guide to top destinations,hotel and travel tips you need to
help plan and book your Sri Lanka vacation.If you have any question,please do not hesitate to
contact us directly.
Address: No-1010#,  Dompe,  Western Province, Sri Lanka
E-mail: support@happytourtosrilanka.com