Complete Guide To Travel Around Sri Lanka
Travel Guide to Lovers Leap Waterfall
Loversleap …!
I think Nuwara Eliya is a place that attracts the attention of many who go on holiday. All in all, it was a great experience.This is the story about Lovers Leap Waterfall in Nuwara Eliya.
Travel Story by Sewwandi Dassanayaka. Regular writer to Happy Tour To Sri Lanka.
Adventure, Curiosity and Beauty combined to make the journey so inspiring..so I am writing this article because of the desire to really share that experience with others ..
This waterfall is located not far from Hawa Eliya town in Nuwara Eliya. When you go down to Hawa Eliya town, you can see the mountain range in the distance. When you see it, you can see how it gets here from below.
But we met several local and foreign groups. The idea is, in our words, "super"
That is to say..that word is a great stimulus at the beginning of the journey ..!
Our group consisted of four people including me..we decided to have one suitcase for all four of us..because we were going to climb a big mountain..we did not put any unnecessary things in that suit except a bottle of water and a few simple snacks that were easy to eat.
Also, it is important to wear a pair of shoes with a light suit (shorts / T-shirt). If you start climbing during the day, you should remember to carry a sweater as it will be very cold in the evening when you return.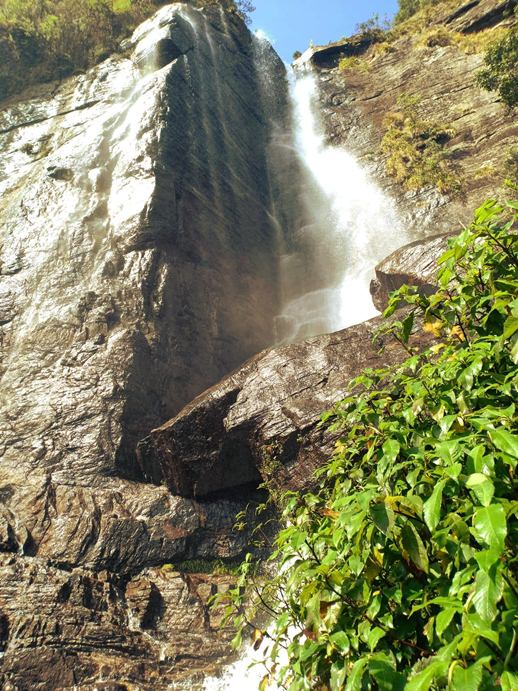 We climbed during the day..even though it was nice and sunny it was not so hot due to the rural environment..first we had to walk through the middle of the village at the bottom of the hill..a beautiful village.
All the houses had rich cultivation like  the leeks, carrot plantations and flowers. They had grown them on a small and large scale. It was very pleasing to the eye and so were the humble villagers!
People who answer  anything with a smile we ask.
There are plenty of beautiful places to take pictures.. little by little as we walked up the road we could  see the beautiful  town down there.The view was so clear due the bright sun and cool weather.
after a while, we could hear the sound of the waterfall.We could see  signs board with the name of the waterfall on the way.
In this way,when  we came close to the waterfall, we met a Tamil man.He looked about forty years old.When we spoke to him we found out that he was a guide. At that time we were at the bottom of the Lover's Leap waterfall.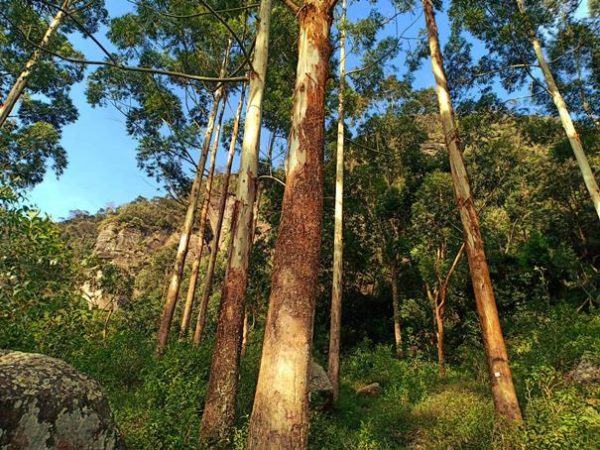 When you look up from there, you can see the beauty of Lover'sleap Fall.There is a big rock.Even though the rock is a little slippery, it is really amazing to walk through the dew of the fall and would definitely love this experience.  
Bathing is not allowed here.The guide told us that villagers down there use water from the fall  for their needs.This waterfall supply drinking water to them.
From there, when we looked at the top of the waterfall, we were really amazed to see foreign visitors  who had gone onto the top of the waterfall.They waved to us from there . How did they get there?There is no visible track up to the top of the cliff.
We decided to climb the cliff at our own risk. We very soon realized that it could not have been impossible to climb the dangerous cliff without a guide. We were prudent to hire this Tamil person at the beginning.
It was difficult  to climb through the forest without tracks.That Tamil youth came forward to support us. He showed us a more dangerous track which was a shortcut to the top. He said that there was an easier way to go but  this track was closer than that.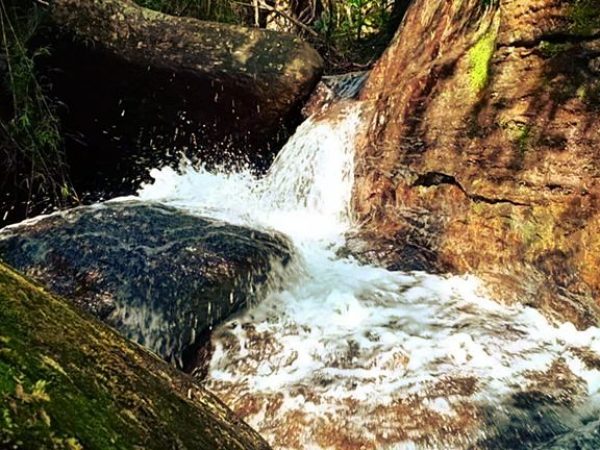 When you look up from there, 
We can see a straight mountain through the trees..not at all flat..and the way to climb is a small footpath..even if not without hesitation he told us to take us back down safely. We decided to climb the mountain.
Actually, as the Tamil man had told us earlier, the work is not easy.but we had a strong desire and the determination to climb somehow. There was no support other than the small tree and branches. In some places we had to climb holding hands and helping each other.We were two couple.
In the meanwhile we saw small streams flowing down the track.
The young man always showed us the roots, the weak branches that should not be trampled.After a big effort, we were able to reach the top of the waterfalls in nearly two hours.
It was a beautiful moment..we shouted with joy..the whole province could be seen..houses and  buildings looked like matchboxes..very beautiful.. 
There was a rocky plateau..we took amazing pictures . Some had hoisted our national flag at the top of the waterfall.
We did not forget put all the leftovers in our bags .. (Polythene empty water bottles.) The time spent there was wonderful ..
After a while we left there..because we had to climb down the mountain before dark..the next problem was that we had to go back down the same track.. very dangerous going downhill. Our guide told us that we could use the other way.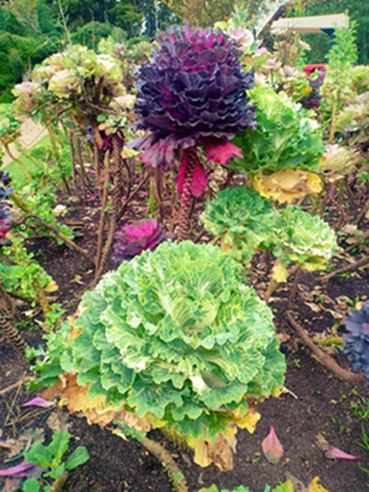 Like I mentioned before,  it didn't take long to figure out if it was true..we had to go a long way along the waterway. Very cold clear water flowing over the rocks..the water was knee deep ..more or less. 
We could see small waterfalls.on both sides  in the woods  ..in some places we rested. and the guide was very informative and we heard many things from our guide.. took pictures..sung..really enjoyed the beauty.
I think if we returned only seeing the waterfall without climbing to the top of the waterfall ,we could not have enjoyed that much.
After a while we crossed the river and reached the jungle road..We started the descent with the help of ridges along the footpaths..It was not as difficult as the climb but it was a long slope. We got a lot of help from our guide.
Finally we went down and reached the bottom of the mountain somehow. When we went down and looked up again we couldn't even imagine that we had climbed this..we found out that foreign visitors  in particular have a strong interest in this trip
The guide charged two thousand rupees.He really did a great service for that money.
When we go back to Hawai Eliya town, it was getting dark.Then,little by little  the cold started to envelop us..sweeters were needed.
When we looked back at Mount Loversleap in the distance, the whole mountain was shrouded in mist. From there we took a bus to Nuwara Eliya. So that's how the journey ended ..
As I was looking out the window of the bus, my mind told me that life is not to be suffered but to suffer..not once.. Twenty or thirty times …
Needless to say that Sri Lanka is a very beautiful country and famous travel destination in Asia. We have to go on a trip like this at least once a month .. get rid of the monotonous way of life. Book a hotel in Nuwara Eliya
Happy Tour To Sri Lanka is a travel guide website which
provides most up to date travel information to tourists.We offer everything such as
travel guide to top destinations,hotel and travel tips you need to
help plan and book your Sri Lanka vacation.If you have any question,please do not hesitate to
contact us directly.
Address: No-1010#,  Dompe,  Western Province, Sri Lanka
E-mail: support@happytourtosrilanka.com