Complete Guide To Travel Around Sri Lanka
Central High Lands Of Sri Lanka
Explore Central High Lands of Sri Lanka
Central High Lands is one of the Eight World Heritage Sites of Sri Lanka.This tourist site is situated in south central part of Sri Lanka.Elevation of the area reaches 8200 ft above the sea level.
Most of the  popular water falls in Sri Lanka are located in this high lands.The area offers ample opportunities for trekking and hiking.
This site consists of popular Horton Plain National Park,Knuckles Mountain Range and Peak Wilderness Sanctuary.This area is home to wide range of flora and fauna and some endangered animals. Book a hotel in Horton Pain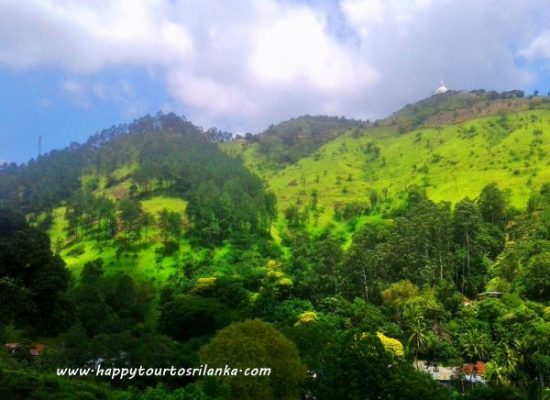 Being a super biodiversity hotspot,Central High Lands with its beauty and a large collection of amazing tourist attractions draws thousands of visitors.
Piduruthalgala ,the tallest mountain in Sri Lanka is located in this region.The height of the Piduruthalagala mountain is 8281 feet.
Things to do in Central High Lands
Trekking and hiking in Knuckles Mountain Range
The Knuckles Mountain Rang,a supper biodiversity hotspot is situated  in Kandy and Matale Districts of Central Province. The height of the mountain range is over 3000 feet above sea level. Book a hotel in Kandy
This takes the name "Knuckles", as it resembles the shape of the knuckles of a clenched fist.Dumbara Kaduwetiya is another name for Knuckles mountrain range.
The area is ideal for trekking and hiking and offers amazing natural beauty for scenic photography.Anyone who like to have a trek in Knuckles range is advised to hire a tour guide.
There have been cases of visitors who were lost in the forest unable to find the way out.
Distance from Colombo to Knuckles Mountain Range is 175 km and can be reached via Kandy.Travel time between the two destinations is about 4 hours.
Visit Horton Plain National Park
Horton Plain is a main attraction in Central High lands of Sri Lanka,situated at an elevation of 2100 feet above sea level.Area of the plain covers more than 3170 hectares.This is one of the coolest spots in Sri Lanka.Anyone would fall in love with the scenic beauty of the plain.
This is a favorite place for trekkers.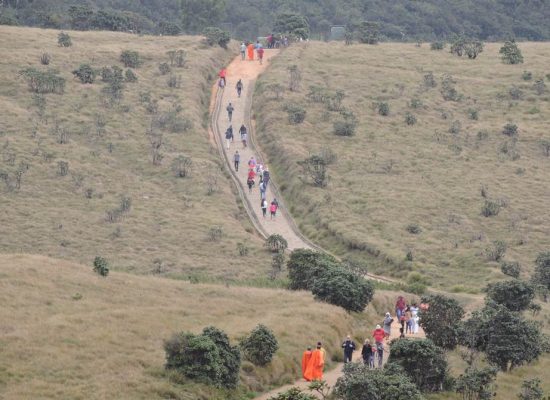 This is a lovely trekking place with fresh air and beautiful scenery along the 12 km long circular trail.In this trail  you will see  Little World's End, Great World's End, Baker's Waterfalls,and Chimney Lake.
The best time to visit this national park is during the period of January to March.
If you start from Colombo,you can take a bus,a train or taxi to reach to Horton Plain.Take a bus from Colombo Central Bus station to Nuwara Eliya where most travelers spend the night before they start  traveling to Horton Plain next morning.It is two hours journey to the National Park from Nuwara Eliya town.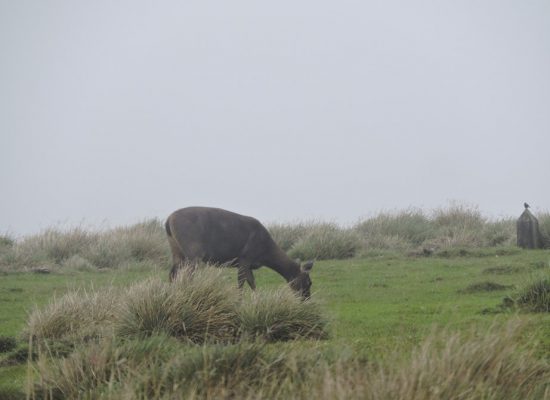 Here we recommend you take a train from Colombo Railway Station so as to have an unforgettable travel experience through the beautiful hill country. Read train travels for more information.Book a hotel in Horton Pain
This is a very popular stop for travelers though the hill country and situated on Nuwara Eliya-Badulla main road.It is 16 km from Nuwara Eliya.
Extent of the garden is over 26 hectares.It has thousands of species of flora planted and famous for Orchids and Roses.This is the second largest garden in Sri Lanka.
As the elevation is 5400 feet above sea level,climate is very cool here.
Gregory Lake Nuwara Eliya
Gregory Lake, is a reservoir located in Nuwara-Eliya which offers visitors water sport activities such as speed boat, water scooter ride, swan boats,and Pony ride and helicopter ride.
You can also enjoy cycling around the lake or have a nice walk.The scenery is beautiful and it is the perfect location for photographs.
The place get most crowds in the month of April due to the festivals (Events & Festivals) and holidays and carnivals.
You have to buy a ticket for entering this place. Book a hotel in Nuwara Eliya
Adam's Peak (Sripada Mountain)
Adam's Peak is a conical mountain with a hight of  7359 ft situated in Central Highlands of Sri Lanka.Thousand of devotees climb this mountain to worship Lord Buddha's foot print.
There are two routes to the summit of the mountain ,Rathnapura route and Hantton route (Rathnapura is popular for gems in Sri Lanka).Distance from Colombo to this place is 150 km and it takes around 4 and half hours.
The mountain is an amazing place for hiking.The hike  will take around  5 hours, however on Public holidays or on weekends the hike may take  10 hours or more. Book a hotel near Adam's Peak
Special features of the hike are the sunrise and the shadow of the mountain on the west side which occurs at around 5:30-6am.This is the peak time of the climb.
The season for climbing Adam's Peak starts from full moon day in December and ends in full moon day in May.
Happy Tour To Sri Lanka is a travel guide website which
provides most up to date travel information to tourists.We offer everything such as
travel guide to top destinations,hotel and travel tips you need to
help plan and book your Sri Lanka vacation.If you have any question,please do not hesitate to
contact us directly.
Address: No-1010#,  Dompe,  Western Province, Sri Lanka
E-mail: support@happytourtosrilanka.com